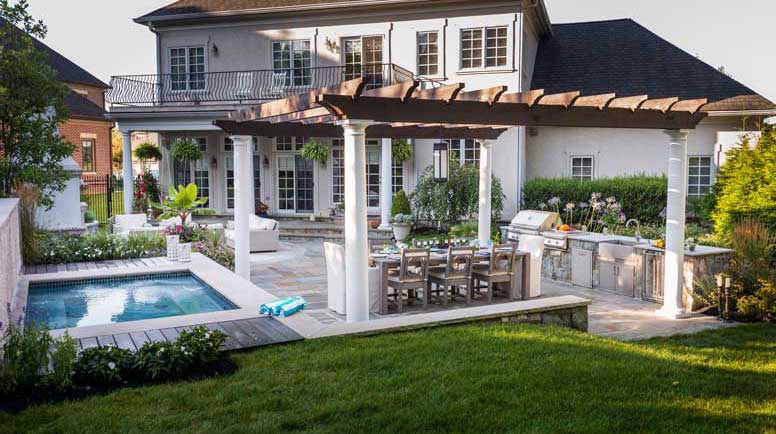 Whether you want a calm and serene place to sit and read, enjoy a cocktail party with friends, or a simple doze off by your poolside, a pergola can serve as an apt spot for all this leisure and fun. A shaded pergola can make your open living space experience much more enjoyable. If you have a pergola in your backyard, then covering it up will help protect it from all the environmental elements and offer you adequate shade and privacy.
A good pergola cover  will not only offer shade, but these can also give you an opportunity to more fun with lighting, florals, and more types of décor. So, go ahead and explore various stylish pergola covers, which will help you keep cool and enthusiastic this summer.
Pergola cover with skylight
A round transparent opening on your pergola roof covers many offers you a glimpse of the sky and also. Considering a pavilion-type pergola cover is the best option to enjoy an open, airy living space at your pergola. This will also offer you good shade along with a perfect ambiance. Pavilion-type covers are now available in various shades and styles to choose from. You can find them at the home improvement stores both online and offline.
Pergola cover with curtains
You can install the pergola covers with built-in curtains to bring a sense of dimension and fullness to it. With these types of curtains on, your pergola will transform from an open space to a more private and protected closed space at your wish. Using a good white-colored cover with a curtain will cover your pergola into an elegant party space for small gatherings too.
Using a tarp
Even if you do not want to go for cozy customer pergola covers to be installed onto the structure, you may consider using a simple, flexible tarp as the pergola covering. For this, you do not have to spend a fortune or need any renovations. Instead of going for a permanent overhead roof for the pergola, you may just fit in the tarp or strong outdoor fabric to the corners pillars and tie it down tight. Doing it well can also give a very romantic, easy-going look.
Umbrella type covering
If you cannot think of installing a permanent covering, you may also opt for an umbrella cover over the pergola or patio area. A simple big umbrella can pair nicely to offer a minimalist and grayscale aesthetic finish to the pergola space.
In any case, the backyard pergola is a perfect spot for you to unwind. Your wish is to keep it as an open space or convert it into a closed private space. You may consider installing a good pergola cover for shade, safety, protection, and privacy for all these purposes.
You can now search for custom-made pergola covers at online stores too. Be sure of the dimensions of the cover needed while getting on to buy one. Take the measurement of your pergola and identify what type and size of a cover will be the best fitting to it, and then start your search online by looking at the product descriptions matching your requirement.