Omnichannel shopping is all about making the shopping experience uniform across all platforms. Whether you shop real-time, on a website or a mobile app, the experience should be the same nonetheless. It is one of the biggest trends in online shopping right now. Ecommerce giants are taking the help of advanced technologies to unify shopping experiences.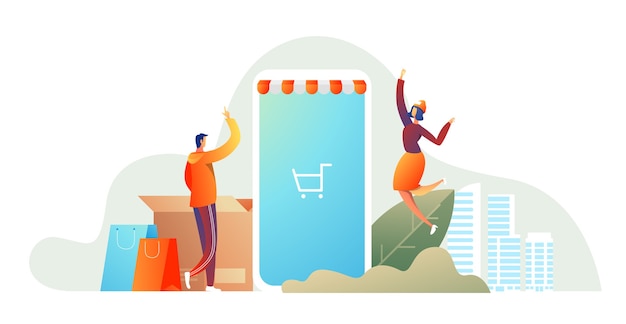 If you are wondering how to identify an omnichannel shopping store, the following observations may help:
Personalised shopping
Omnichannel shopping takes customisation to an all-new level. Even their marketing and online promotions are customised to your requirements and preferences. These wholesale grocery stores study your online behaviour to get an idea about the things you wish to have on discount and offer promotions accordingly. The mails you get are customised to your past purchasing tendencies so that you do not block them or send them to the spam folder right away.
Easy navigation
It is, by far, the most important requirement for an eCommerce store that aims to achieve the omnichannel experience. The website should have easy navigation to help customers find categories and subcategories without much hassle. Just like the shoppers have to move from shelf to shelf to get the products they want, the online stores should offer the same experience, with all the similar products under one category.
Multiple payment integration
A real-time grocery store will offer multiple payment gateways for maximum convenience. To get an omnichannel experience, online stores should offer the same with additional benefits. Whether you wish to pay with your credit/debit card, UPI system, or you want to go for the COD (Cash on Delivery) option, the store should offer it all. Also, it should make the return and refund policy hassle-free and on time to improve customer satisfaction and build trust.
Wide range of products
The shopping stores should regularly update their stocks to provide the customers with a one-stop shopping experience. Whether you want to buy soaps and detergents, or wholesale pulses online, you need not navigate away from the store to fulfil your requirements. Some online stores also offer items on credits so that you may buy them and pay later. It helps cash-strapped customers to get their fill without worrying about budget constraints.
Reviews and testimonials
Something that only online stores can offer is reviews and testimonials. You may write reviews on the overall buying experience or individual products to help other fellow customers. It will guide them to invest in high-quality products without suffering from buyer's remorse. As an online store, however, the dealers should be a little more careful about product quality, as any negative review can affect their brand reputation.
Customer service
As in any real-time store, online stores should have a dedicated customer service team to handle buyers' queries. You may reach them via phone or email, depending on your choice, and not their preferences. The responses should not take much time, as it can hamper the shopping experience. It is best if you opt for an online store with a 24/7 customer service team. Developing chatbots can also help in online shopping if the 24/7 option isn't feasible.
Notifications
If a product is out of stock, you should be able to get notifications through email or on your phones directly when it is available. Such experiences help build trust in the store that ends up getting a loyal chain of customers. Integrating technologies and thinking out-of-the-box can help improve customer reliability, thus creating an omnichannel experience.
Have you found the store you wish to buy your groceries regularly? You can check out Udhaar Shop once. It offers groceries on credit if you do not have enough cash at present. You can buy all your stuff here together and pay within 15 days. Check out the store once to see if it has what you need.