Clothing styles for autumn stay incomplete without the inclusion of an olive shirt over a T-shirt. Be it a formal or casual look, the combination of shirts over t-shirts is a popular trend among men. And in a world of shirts, open shirt trends can never get old-school (given a variety of choices).
Whenever a style or trend gets followed, prints and colors become the prerequisite elements. An eye-catching style always combines beautiful prints and solid hues. A man who does not want to try too much can go for these neutral styles and flaunt the shirt-overt-shirt trend. Before you buy men's clothes online, check these trends!
A Check Shirt over a Solid-Colored T-shirt
Almost every man likes the color white. By default, a white shirt or t-shirt always turns out to be the stage-grabbing style ever since time immemorial. Even if you aren't a color blocking man, shades of blue and grey can be extremely catching concerning a T-shirt.
When combined with a pair of ripped jeans, the style looks picture-perfect. The experimental people might consider trying a yellow shirt combined with a turquoise blue or even orange to get a beach look. It looks amazing when paired with your favorite denim shorts.
A Red Shirt Combined with a White T-Shirt
For a gentlemen look, white is a ruling color. When it gets combined with a red shirt, it works tremendously well. You can also choose a graphic T-s to make your choice more authentic.
Perhaps, a striped red unbuttoned shirt would have an outstanding appeal. You can wear this combination to make your weekend well spent with friends.  Additionally, the monochrome & blue shades turn out to be a classic style when paired with a redshirt.
A Denim Shirt with a Round-Necked T-Shirt
Wearing a denim shirt with an ash rounded t-shirt would certainly not make you a fashion disaster. You can boost a casual look by pair the shirt with a striped or even a graphic black or grey t-shirt combination.
Even a red, olive green, mustard yellow, or a white t-shirt would look amazing. It's a perfect combination for a family get-together, hanging out with friends, and more.
A Brown Shirt over a Casual T-s
If you prefer sober styling, a brown shirt is going to find you the most sought-after style. You can combine the shirt with a neutral-colored T-s such as khaki or beige (if not blue &white).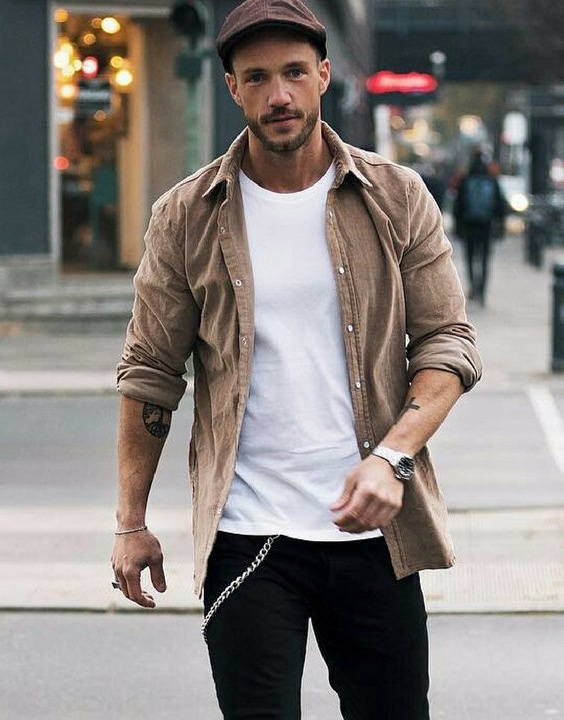 For beginners, the shirt over shirt combo is handy as you can get a conventional way to decking up for any event or get-togethers! Even a fashionista can find these combinations amazing to stay committed to styling for the much-awaited occasions& events this autumn.